To avoid waiting in a line, choose a day for your visit that meets these criteria:
1. A school day. First Friday after Labor Day for example.
2. A rainy day. A light sprinkle won't kill ya. You're getting wet on all those splashy rides anyway.
And don't forget the most important one:
3. A day in which a hurricane is bearing down on the park like an angry Assyrian and all his gleaming cohorts.
Sure, everyone else is headed to the grocery store to stock up on bottled water and food you don't have to keep cold. They're checking their generators and weather.com, speculating on whether tropical storm means losing power for eight minutes or eight hours. But you don't *care* about these things. You only care about getting straight onto any ride you decide to try, and riding as long as you want without getting off, because there is *no one in the park but you.* You may now cackle loudly, twirl your mustaches, and if you really want to, ball your fists and raise them to the sky in triumph. I mean, you probably have batteries somewhere, right? You have children after all. You can raid their toys.
There are three big roller coasters at Busch Gardens that Benny can ride: Big Bad Wolf, Apollo Chariot, and Loch Ness Monster. He rode none of them less than 4 times. Apollo Chariot he rode four times in a row without getting off. On Escape from Pompeii, we sat there debating whether we wanted to ride a fourth time or whether we were done. What a divine, excellent, blissful experience. Benny and Dad in the front row on the Big Bad Wolf:
Benny's analysis of the roller coasters:
Benny: "I like these non-fiction rides."
Me: "Non-fiction?"
Benny: "Yes, you know, the Walt Disney World rides are fiction and these are non-fiction."
Very astute, I think. I prefer the fictional ones, but that's predictable.
Sadie and I entertained ourselves while Benny and Dad were riding the big dangerous rides:
Here's Benny on the chair swing:
Here's Sadie on the chair swing junior:
Yes, the junior version was much less thrilling, but then again, someone had spectacularly hurled in a giant, radiating arc on the big one just before we were ready to get on it, so I decided... you know... to skip it.
Here's the ride that I puked on when I was a little kid at Boblo Island: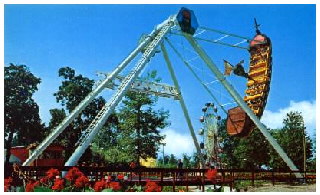 That's an actual picture of the actual ride -- the park is closed now but you can find anything on the internet, right? I puked in one of those red-flowered bushes, back in the 70s. Here's the Busch Gardens version of the pirate/viking ship, called the Battering Ram:
Dan and Benny were riding a 42" and up ride in the DaVinci area, and Sadie asked earnestly to ride the battering ram again, so I went on it with her. Fortunately she elected to sit in the middle and there were no eruptions. It was a little awful. Sadie told Dan, when they were riding it together, sitting at the rear seat, that the ride made her feel homesick. She also refers to it now, looking back, as having given her a homesick feeling -- I guess that's how she identifies the sinking stomach feeling you get. She loved that ride -- it was her favorite.
Here are the kids on some of the other DaVinci themed rides:
We had a solid four hours of happy sunny weather. The wind picked up while we were having lunch, and then the rain started misting down after 2:00. It got progressively stronger, and we retreated to the train and the Skyride... here we are in one of these little chairlifty buckets that go sailing around the park way up high on ropes. That lump in Sadie's hand is cotton candy made of garbanzo beans and agave nectar, with no artificial colors and flavors *WINK*:
The Skyride is a VERY cool way to see and understand the roller coasters from a different perspective. It even goes through the loops and very close to the speeding cars at one point.
By five it was too rainy to be cheery. Here's Ireland, empty, in the rain:
We went home happy, tired, having roller coastered the children into a state of complete exhaustion:
As for the "tropical storm," it was practically nothing. Hanna Shmanna Bobanna. A bit of wind, a bit of rain, the lights flickered once, and it was over. We didn't miss much by not frantically preparing on Friday. I'm glad we decided to live on the wild side and ride roller coasters all day.
One down side: While Dan was upside down over the lake, Dan's wallet plummeted to its death. While going past Loch Ness Monster in the Skyride bucket, we peered over and searched all the scaffolding -- we couldn't see it, so I'm pretty sure it's in the Loch. Of course, being Dan, he's already replaced all his cards and identifications. Without that one glitch it would have been a perfect day. A wet, heart-racing, laughing, rushing, upside down day.