When the laundry pile in the basement is poking you in the chest and asking if you have a problem, it might be time to move to a new house and buy all new clothes. Or...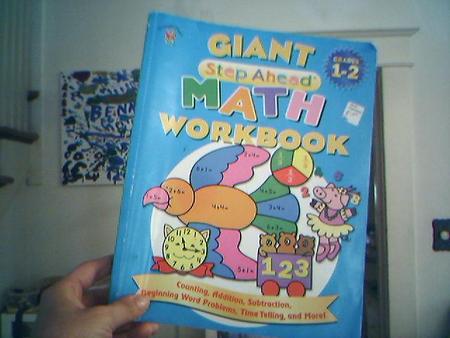 Today we went for a long walk/stroller ride/bike ride down to Colley Raleigh playground. And ended up staying out in the gorgeous weather for three hours. But we had a good reason.
One of my vague and insubstantiated goals for the "school year" was to finish this giant math book that we got at the homeschool
book store
. Well, this morning he finished it. The clouds parted, the trumpets sang, and the little baby head that lives in the sun smiled benevolently upon us.
Good things about this book:
1. Lots of practice on each skill. In fact the book takes you through all the skills, all the way through twice. Then again with a tiny review at the end. At the end of this book if you don't know how to add and subtract, you just haven't been paying attention. Sometimes in math you just have to slog through a bunch of reps, so it becomes automatic for you. Not something you bounce of out bed singing about, but a necessary irritation.
2. Lots of pages where you have to figure out the secret coded message. After the tenth one where the secret message was "You are great!" or "You're a star!" it kind of lost its punch, but Benny did enjoy those pages.
Bad things about this book:
1. The pages were all black and white. Seems like a superficial whine, but something about it got a little grim after a while, especially when his other books are more flashy.
2. It says it's for grades 1 and 2, but it doesn't get to borrowing and carrying, or multiplication, at all. Our other grade two book has carrying and borrowing and a preview of multiplying.
The best thing about this book is that it's over! Big black magic marker line through that theoretical entry on my imaginary to-do list. To celebrate, we went on a long bike ride around the neighborhood, got some ice cream at
Taste Unlimited
on Colley Ave, and went to the playground. A great homeschool kindergarten day: Very very small amount of school, and very large amount of fun.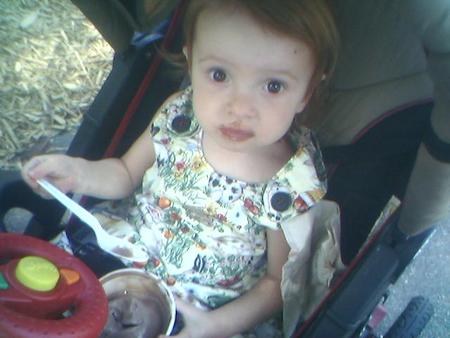 Giant Step Ahead Math Workbook (Grades 1 - 2)