We have gone to the Afr'Am Festival every year since we moved here, but we've never gone for the parade. This year we did, and it was extremely entertaining. Benny was thrilled by the high school marching bands we saw. We stood right near the walkway over Waterside Drive, where the bands were putting on their big final shows, and Benny and Ahno were sitting right on the curb.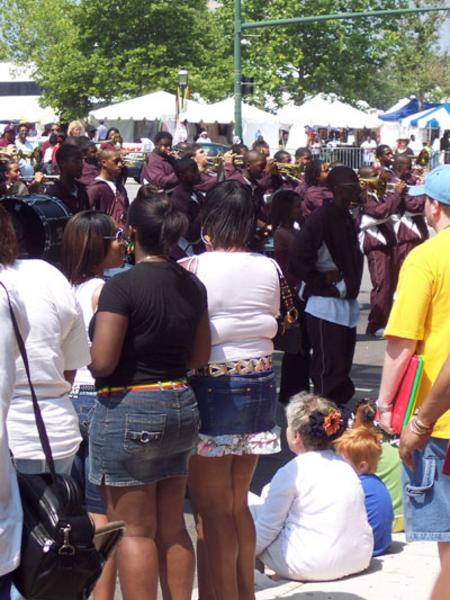 Watching it made me get kind of choked up. If Benny and Sadie continue with homeschooling through high school, will they ever experience this? Will they get to complain to their friends about the hot uniforms, and shake their Sousaphones back and forth down the street, and will I get to walk behind dragging a cooler of Gatorade and taking pictures? Yes, there are homeschool bands and probably even homeschool marching bands around here. But will they feel that same feeling of pride and belonging that I saw on those kids' faces in that parade?
After that, we went in to the festival and immediately got the kids ice cream because it was already really hot. We bought crab cakes and sweet tea, roamed around, looked at some art. The opening processional began to make its way through the park, and here is Benny, dancing by himself to the drums that were marching at the lead.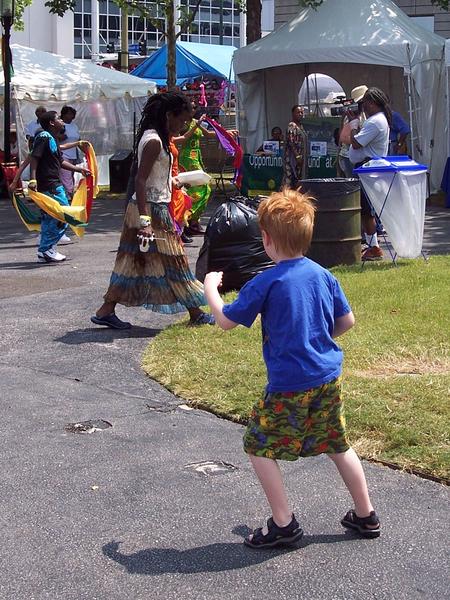 He has no self consciousness in him, this child. Last month he was dancing by himself to Puttin' On The Ritz in the lobby of the Chrysler. This month to the djembe drums in Town Point Park. Later when we were watching the festivities officially open, he had no problem hollering ASHAE while they were pouring out the libation to the spirits, even though we were standing way back at the treeline, and no one around him was doing it, when the speaker asked us to. He just hollered it right out, and never thought about it. That's what I love about Benny. He does not edit himself based on what other people might think. Of course, sometimes it would be a blessing if he would do this, especially when he's thinking of discussing his gastric processes in Sunday School.
After that, we trotted around and looked at the vendors. Some had travelled long distances and brought amazing clothing and artwork. There were some real treasures mixed in with the usual blow-up Spidermans and Doras. Ahno found a really cool outfit, and we also saw these giraffes that the children really liked looking at: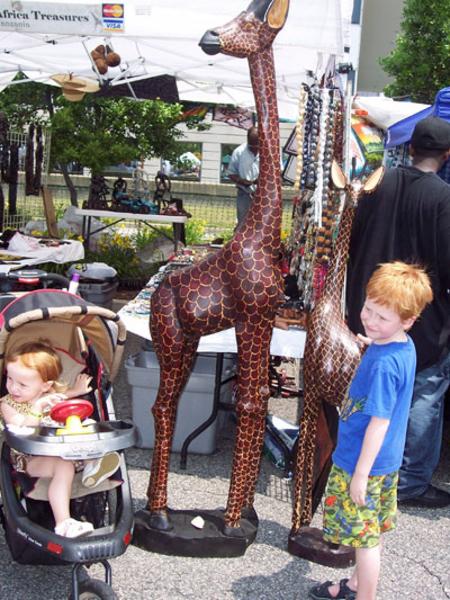 Then we went home. It was getting really hot, and my redheaded children tend to melt in the midday sun. The festival continues today and tomorrow. You should go. Benny loved it, and you might too.