We recently spent some time at my family's farm in Pennsylvania. We haven't been there since Benny was three. This tim around, I found myself letting go of a lot of things that would have had me screaming my head off, three years ago.
When I was a child we went to "The Farm" every summer. My parents were school teachers, and they'd hung on to this property in Pennsylvania, where they used to live full time, as a summer home. I climbed trees, rode horses, hiked in the woods, and in general stepped outside my narrow urban experience for a few months of the year.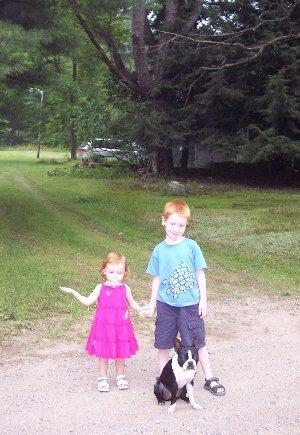 Now, I am a parent. Tree climbing no longer means escaping to a staggering height to stay there with a book all through the afternoon while your mother wonders where you are. Tree climbing now means hysterically imagining trips to the emergency room, with broken arms, legs, and heads, and that type of thing. Riding a pony no longer means feeling the animal move under you, and the wind in your hair, and civilization at your back. Now it means believing with certainty that the pony is most likely crazy, and only wants to scrape your precious baby off on the nearest tree, and then trample him/her into the moss as it neighs in evil triumph. What a difference twenty years and two pregnancies makes.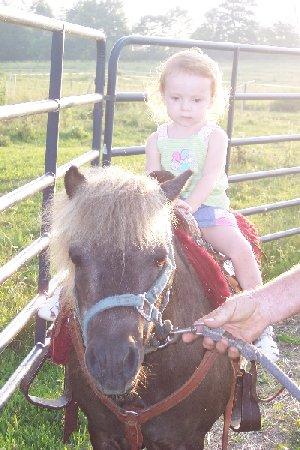 The last time we were at "The Farm," Benny was three years old. I hovered over him like a swarm of bees, guiding him away from anything sharp, high, cold, or made out of poison. This time around, he was six, and I had little Sadie to hover over. The question on everyone's mind, as we made plans for our trip, was this: Will Lydia be able to release her deathgrip on Benny's safety at all? Or will she hover over BOTH of them, relentlessly, forcing them into a small, resentful unit that marches before her in only the safest of safety?
Let me tell you.
There are trees in the front yard, at the farm. They are tall. They are taller than the house. Benny, naturally, being a six-year-old boy, was attracted to these trees as a duck is attracted to water. Or, as a duck is attracted to a whistling precipice where he probably plummets to his certain death.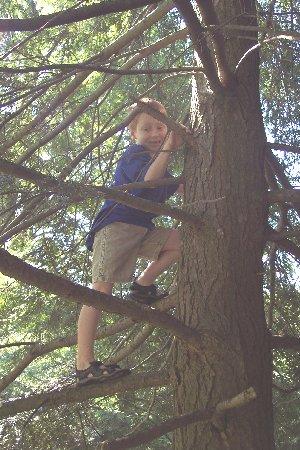 Benny: HI MOM DO YOU SEE ME I AM VERY HIGH!
Me (pulse racing): Aren't you ready to come down, now, Benny?
Benny: I AM NOT AT MY HIGHEST POINT!
Me (eyes popping): Okay, but be careful, okay? Okay? Because if youf all, it will not be good. You will get hurt! Hurt I tell you!!!
Benny: MOM DO YOU SEE HOW HIGH I AM IN THIS TREE I CAN SEE THE ***ROOF***!
Me (blood draining from extremities to hide cowering in heart): Okay, but are you at your highest point yet? Mommy's not feeling okay about you going so high!
Benny: MOM GO IN THE BACK YARD! I CAN SEE YOUR BLUE CHAIR OVER THE HOUSE! I CAN SEE YOU IF YOU SIT IN IT! GO SIT IN THE BLUE CHAIR!
Me: *thud*
Did I let him climb the tree, all the way up to the top, all the way past the roof? Did I let her ride the pony? I did, repeatedly. By the end of our time there, I even said things like, "Go play outside for a while Benny. It's going to be bathtime soon." Then I would open the door, bustle him out, and continue feeding the dog or pulling the baby in the wagon, or whatever. I did relax. It was, at times, not at all relaxing, but I did manage to do it.
He also learned to ride his bicycle without training wheels, and I learned not to hold onto the back of his seat. He read himself to sleep at night, after our reading time together was over. And he got to be in charge of the dog.
The country was good for us. You never realize you can let go and allow your child to expand in these ways until you're in the situation, and you see yourself doing it. I'm assuming, though I can't imagine it right now, that this will be the case when he wants to drive, go to college, get married -- those other dangerous projects. One breathless conversation with him climbing, climbing inexorably up, and then he will be there, alive, and I will have survived it too.