If you've never heard of geocaching, you're probably normal. But if you're a certified geek in every other way, you need this sport in your life.
For educational merit, Geocaching is awesome. This time of year, it's pretty high on mosquito content too. Bugs notwithstanding, it's fun for the whole family, and all you need is a GPS thingy, and a willingness to get off the beaten path.
Geocaching is a worldwide game based on the old practice of explorers, cowboys, woodsmen, and other outdoors types -- leaving "caches" in secret places, so they could come back and get stuff they couldn't carry. Players hide caches in public places (or with permission on private property) and post the latitude and longitude coordinates on the internet so other players can go find them. Caches can be as small as a film canister and contain nothing but a log to sign and replace, or they can be a big waterproof container, where players can trade items. Lots of people leave Happy Meal toys, for example, for kids who are joining their parents on a treasure hunt. Caches can be hidden deep in the wilderness, or right on a downtown street corner.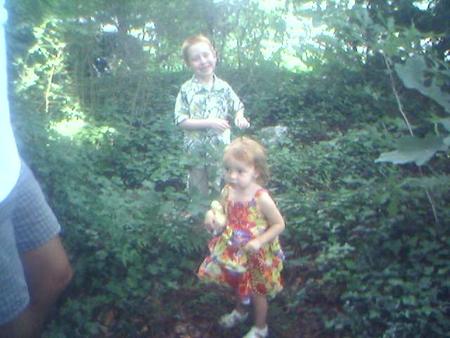 You need a GPS unit, so you can wander around in the woods, walking this way and that, staring at the radio in your hand which tells you you're 15 feet away, then 400 feet away, then that you're standing on it, then that you're a mile away, all between two adjacent trees. You need a free account at the
Geocaching web site
, so you can look up caches to find. And you need BUG SPRAY!!! Don't forget the bug spray. And boots. Today I was ankle deep in mud.
Geocaching is fun for the kids because they like to find treasures, and leave treasures for other kids to find. My six-year-old loves signing the log books. For homeschoolers, this is a deep mine... which I haven't even really begun to think about properly. For example, you can put a "Travel Bug" in a cache, and send it around the world, tracking its progress on the internet, as other cachers transfer it from place to place. You can hide your own caches too. Some are puzzle caches, math-based caches, and of course you learn about the compass, the lat and long, and finding your way in the woods.
Today we went out "caching" and found four of the four we were seeking. A good day! They say days like that can make the game addictive. Tomorrow we're going to Ohio to visit grandparents. I'm *trying* not to look up geocaches to visit along the way.